Brand new DivMMC EnJOY! PRO ONE SD card and joystick interface for the ZX Spectrum

Categoría:

Tipo de anuncio:

Precio Fijo Cantidad Multiple

Item Condition:

New

Ubicación del vendedor:

Eindhoven, Netherlands

Tiempo restante:

Este anuncio está finalizado (24/10/2020)

Notify When Back in Stock

Cantidad disponible:

94

Último comprador:

z***1 (0)

Precio fijo:

£68.99

Gastos de envío:

From only £4.00

Formas de pago:

Pay Pal

Cantidad vendida:

6 (Ver historial)

| Comprador | Precio | Fecha y hora | Cantidad comprada |
| --- | --- | --- | --- |
| z***1 (0) | £68.99 | 21/10/2020 22:11:50 | 1 |
| z***d (0) | £68.99 | 21/10/2020 18:24:43 | 1 |
| W***r (1) | £68.99 | 04/07/2020 17:16:11 | 1 |
| t***8 (0) | £58.99 | 22/05/2020 21:06:47 | 1 |
| D***d (0) | £58.99 | 22/05/2020 17:33:52 | 1 |
| S***n (1) | £58.99 | 02/04/2020 16:12:47 | 1 |
WARNING: Due to the impact of coronavirus, delivery times across the World are severely impacted, with some countries refusing to accept postage completely.
Descripción

The
SD card interface

Load games from SD card in the blink of an eye!
Compatible with any ZX Spectrum and many clones!
ZX SPECTRUM 16K, 48K, 48K+, 128K, +2, +2A, +2B, +3
Configurable Joystick Interface
Set to Kempston + Cursor Joystick by default
Easy DIP switch configuration options for Sinclair or Cursor joystick
Including system tools, demos and more - ready to go!



Ready for use!
Plug and play - ZX Spectrum model autodetection


Features:
- Throughput edge connector for other interfaces
- Plug and play: Autodetection of ZX Spectrum model
- NMI button for a quick file access
- Very fast: load games in seconds!
- Integrated configurable Dual Joystick interface (Kempston / Sinclair 1 / Sinclair 2 / Cursor / Fuller)
- Very cool 'toastrack' looking case
- Compatible with the +3e ROMs
Comes with the best software: ESXDOS
- FAT and FAT32 compatible - easy file transfer!
- Support for various emulator formats: .TAP, .SNA, .TRD and more!
- New and easy BASIC commands and many fun and useful tools!
- Create snapshots to continue a game later!
- Write support to SD card with easy commands!
- Updates are still being developed; installing an update is easy!
A printed manual is included with the interface
Well packed and shipped with registered and insured service: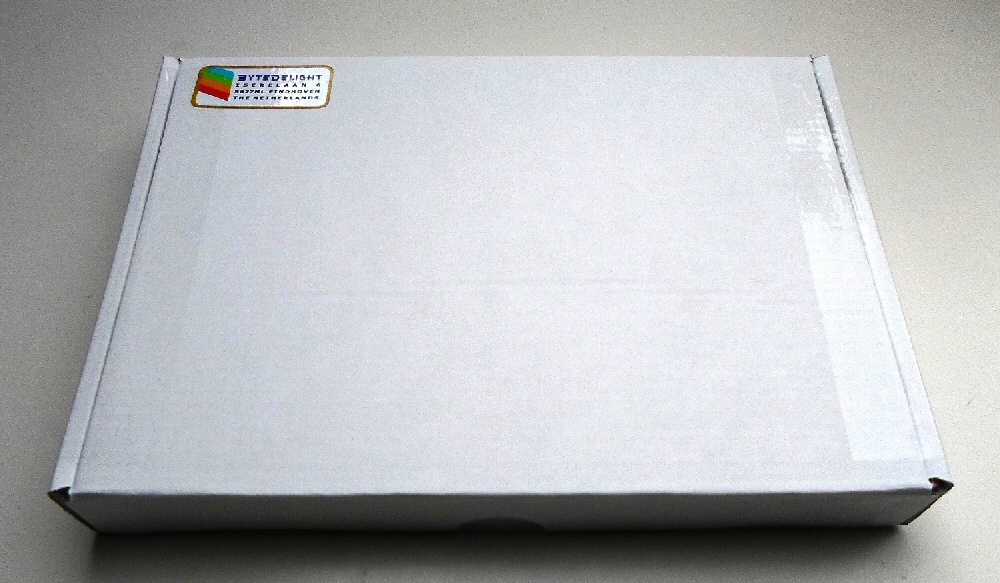 Check out our other offers for more DivMMC EnJOY! models
and other ZX Spectrum add-ons!
The ZX Spectrum add-on for years to come!
Get yours now!

Best Quality - Best Service
Envío y Pago
Item Location:

Eindhoven, Netherlands

Condiciones de envío:

Gastos de envío a cargo del comprador

Gastos de envío:

Para Netherlands :
First Class Post : £4.00 Por artículo inicial, £1.00 Por artículos adicionales
Para EU :
Airmail Post : £11.00 Por artículo inicial, £1.00 Por artículos adicionales
Para Europe (Non EU) :
Airmail Post : £20.00 Por artículo inicial, £1.00 Por artículos adicionales
Para Americas (Non USA) :
Airmail Post : £20.00 Por artículo inicial, £2.00 Por artículos adicionales
Para Resto del Mundo :
Airmail Post : £20.00 Por artículo inicial, £2.00 Por artículos adicionales
Para USA :
Airmail Post : £20.00 Por artículo inicial, £2.00 Por artículos adicionales

Condiciones de envío:

No especificado

Formas de pago:

Pay Pal
Vendedor: Ben Versteeg Iserelaan 6, Eindhoven, 5627NL, Netherlands
All prices and shipping include VAT at 21.00% where applicable
VAT Number: NL860142681B01
The seller accepts all responsibility for this listing
Visitas: 1066